Mega medical 3D model
Mega medical 3D model, a transformed technology product to help with the surgical complementary therapy, is achieved by the 3D print. The Model which is based on the patient's CT (Compuer Tomography) and MRI (Magnetic resonance imagine) date, imitates the surgery and implant design and processes with high precision 3D print can help with reappearing and rebiulding patient's organizational structures scientifically and audio-visually, imitating the surgery and the pre-installation of the implant precisely, and even realizing the mechanical analysis of the bone structures and the implant on computer, and finally achieve the three-dimensional reconstruction of the bone and tooth, etc. Our medical 3D model products series can provide clinicians scientific and accurate diagnoses and can be their therapy reference, also can deliver patients superior and convenient medical complementary therapy service.
Chairside application category
Maxillo-facial tumour and rebuild
orthognathic surgery and plastic
2. Dental: Implant guide plate
Complex fracture, hip joint substitution, spine surgery
external eye tumour and rebuild, external eye trauma
5. Plastic surgery: plastic design for hard and soft tissue
6. Neurosurgery:skull repair; encephalic nidus position
7. E.N.T. Department: nose tumour and rebuild;external ear rebuild;ear canals rebuild
8. cardiothoracic surgery: funnel chest surgery;design for cardiac surgery
9. Oncology:entity tumour lesion;The blood vessels distribution around tumour
Skull base tumour design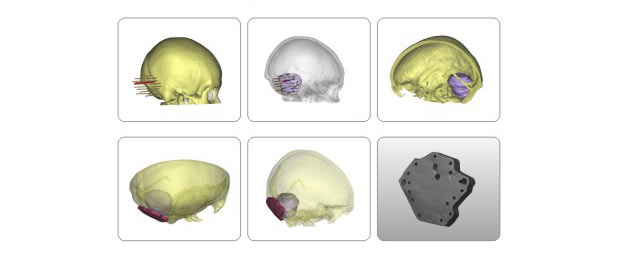 Implant guide plate


Perone Rebuild and mandible design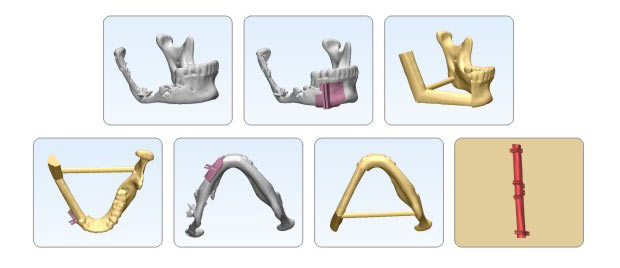 Mandible tumour tumor resection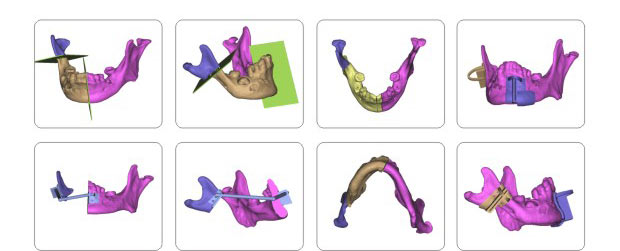 The large impeccable implant date base allows the design and print of the implant model according to users' various demands. By following the surgical principle, the authority experts design its location, prefabricate its profile, and assist the surgical treatment with the models, can finally guarantee the treatment effect of the surgery.

Plate design for tumor and its surgery
According to the data provided by users, the professional engineering technicians can accomplish the surgical lesion segmentation and imitation, fabricate the post-operation model and the surgical plate. It will help guide the clinical surgery.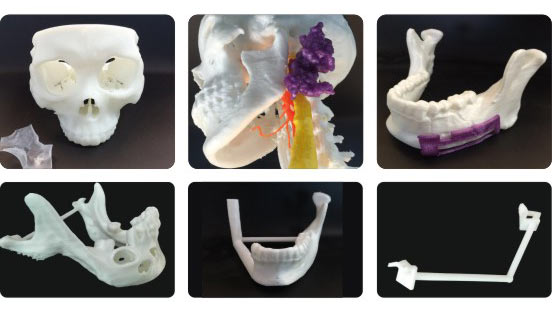 Patients can download their data anytime and anywhere which will be stored in our server freely during the fabrication of their models from the internet and change the way of reading CT scans. These data will provide the clinic care a more specific medical imaging reference.
DICOM data collection -- data processing and storage -- model design and fabrication -- model application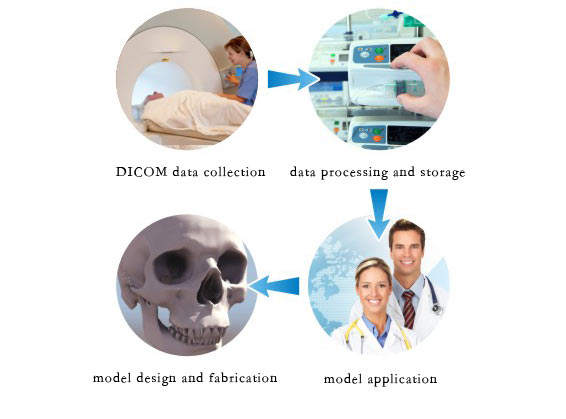 Product material

:PLA

Photosensitive resin
Sterilize method

radioactive:rays>5mm

Plasma sterilization
Print method:Fusion fiber print

Light-curing print
Data output:0.05mm-0.25mm

0.02-0.1mm